Posted 27 September 2022
Being heard is not the same as being understood: why interpreting matters
Towards the end of 2021 we launched our campaign to raise awareness of the immense pain caused to survivors of domestic abuse, through not being offered adequate support in the language of their choice.
Recently, Rizwana who works in our Complex Needs team, received this feedback from a woman she was supporting. Her powerful and moving account of the support we offered her is a stark reminder of why we are determined to ensure all women are supported with an interpreter when they need it.
"You have been very kind and supportive when I was desperate and in need. I don't know English, you were my voice. It is so difficult to communicate with people when you don't know English or know the process or how to do basic things. It's such a huge barrier. Especially with documents, I.T, housing things- it was all a blur and so overwhelming, I felt sick. I didn't know what to do.

You helped me with everything, with housing, providing me with internet, finances, my children, the school, bus passes- the list could go on. I'm forever indebted. Every time I had a problem, I would contact you and you responded efficiently and you would resolve my problems. Without English, not knowing how to read, write and speak it, you're treated like a nuisance. Having an interpreter really eased my anxieties and they relayed what I was trying to say, back to you. This bridged the gap.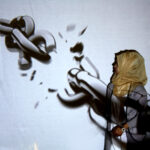 With the language barrier, I wouldn't have been able to survive. I am not familiar with the system, I really don't know what I could have done. I can't bear to think about that. Even though you don't know my language and I don't know yours, we were still able to communicate. Which was wonderful. I am so thankful that I was able to voice my concerns and opinions and also be able to express myself without getting into a panic. It is so hard expressing yourself.
It was a lonely ordeal. I am super grateful of having services like yourselves as you have given a voice to people who already have voices but no-one was willing to listen patiently. Using an interpreter meant that I wasn't then relying on my young children which a lot of people allowed me to do. It was when you came and stated you will get an interpreter for me as children should not be relaying sensitive information. It then clicked to me that I was so used to doing that. My kids are just kids they don't need to feel the burden but I was so frustrated that I didn't even realise.
I remember with your calls, I didn't feel anxiety or frustrated. I had choices. Even if my interpreter didn't speak my dialect, you quickly realised even though you don't speak the language and you got another interpreter that spoke my dialect or similar. I am grateful. You really don't know what you have done for me Women's Aid. Thank you from my soul''
Our latest news