Posted 01 September 2022
A Day in the Life of…Commonwealth Games Volunteer
Prem, who works in our Infrastructure team, shares her experience of volunteering at the recent games
I'm sure you're all aware that the biggest multi-sports event has just taken part in the region. This was the first time that Birmingham had held the Commonwealth Games. I was part of the 'Commonwealth Collective' aka a volunteer.
In the city centre you could not miss the orange and blue/grey army, there were 1400 volunteers and we weren't just in the city centre, we were at all the events, athlete villages and transport hubs.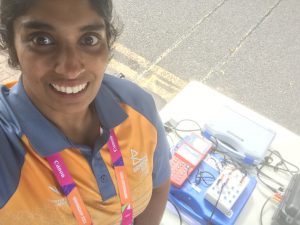 My role was strangely in Technology, part of the results team (eek). I was at Marathon and at the cycling time trials. The role was a failsafe if the equipment failed which we were assured it wouldn't, but due to the sports regulations they have to have people in place. The day before the events we were given training for the role and got to see where the races would start, the cycling start point was a lot nicer that the Marathon start.
For the Marathon I was in Bournville at the 10K mark and thank goodness for camera phones as it would be impossible to note athlete names and times with out them (we found this out during the para races) but for the women's and men's race we knew what were doing.
The role for the cycling time trial was a little different, I was in centre of Sedgley that day I was given a clicker and the information was sent back to result centre. I was also on the phone to another volunteer at the results centre who I would tell the rider number too. We were told this information was for information only and going to the media, it may not be true but I was providing the times from the first intermediate timing point for the broadcast.
There was no escaping being a volunteer when I was wearing the uniform when around the city or on public transport I was asked questions. Everyone seemed a bit friendlier too; they do call the commonwealth games the 'Friendly Games'.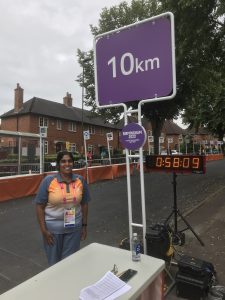 It was great experience and I'm so I glad I was given the opportunity to be part of it. I have always found volunteering enjoyable as it allows you to do things that you don't always get the chance to do.
Our latest news