Posted 05 October 2022
Meet the Team
My name is Jennifer and I am one of the Advocate Educators for the IRIS Interventions Project.
I work in the Solihull area.
I have worked in the domestic abuse sector for some time, initially at a Children's Centre, and then in 2014 I joined the BSWA family as an Outreach Worker in Solihull. This role gave me the opportunity to work directly with women in the community, but also to develop close working relationships with many of the community organisations in Solihull, who were amazing at assisting with our work in the provision of various resources, including venues in which to see women. This included local GP practices.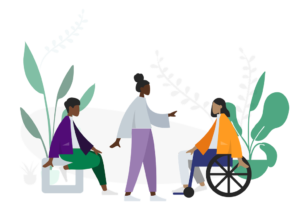 As always, the demand for support was
challenging and I was able to develop a group
work programme that enabled women to assess
support in a slightly different way, but
nevertheless provided some ongoing emotional
and practical support, which helped the team to
meet growing demand. This was a very
rewarding part of the role, both for Service
Users and myself.

I joined the IRIS Team in 2019, as I liked the idea of the dual role that could give me a greater opportunity to work with Health
Professionals in supporting individuals that had experienced domestic violence and abuse.
 
During my time here, I have again been able to utilise my group work skills and during the very
challenging times during lockdown, and once again faced with the need to think creatively
about providing services that added value to the service, whilst trying to make the best of our
limited resources, we were able to introduce an on-line Group Work Programme. Once again,
the service was very warmly received by those who accessed and below is a quote from one of
the service users.

I am pleased to say that several of the Solihull sites, have continued to regularly make
referrals to the service, even during lockdown. I am also grateful that several committed to
training even during the those very challenging times. I look forward to continuing working
with sites, and am looking forward to resuming some face to face training and appointments
with patients.
Our latest news